After graduating from college in 2015, I went into a gap year. However, according to the Vietnamese news agencies, my trip was somewhat different. With the help of a friend I have translated one of many (
1
,
2
,
3
,...) news articles about this journey.
An interesting story about the western guy who brought the whole 'motorbike camper' to Vietnam
This German student is on the road with his motorbike and a 'camper van', which is fitted directly at the side of his motorbike.
His name is Max Heichling. A 19 year old German student. He has travelled to Thailand, Cambodia and Laos and is currently visiting Vietnam on his way to Saigon.
The story of this foreigner is told on the personal Facebook page of a Vietnamese man named Trung Pham.
The photos posted on Trung Pham's Facebook page about this special man riding his special motorbike went viral on social media sources and received many "favours". Many people are interested in this special character because of the way he chose to travel.
Trung Pham also said that he met this student only by chance. "As I was walking in the street, when I passed the bus station, I saw people in crowds watching this foreigner and I thought that they must be harassing this man. I came closer and asked the people. They said: He was cooking dinner. When I saw that a woman that was cooking for him, she said : "I went home and came back to buy food for him. The problem was that he did not speak Vietnamese, only English".
He brought some eggs with a mini gas cooker and some fish balls in a box. The woman urged him to let her cook fried eggs for him.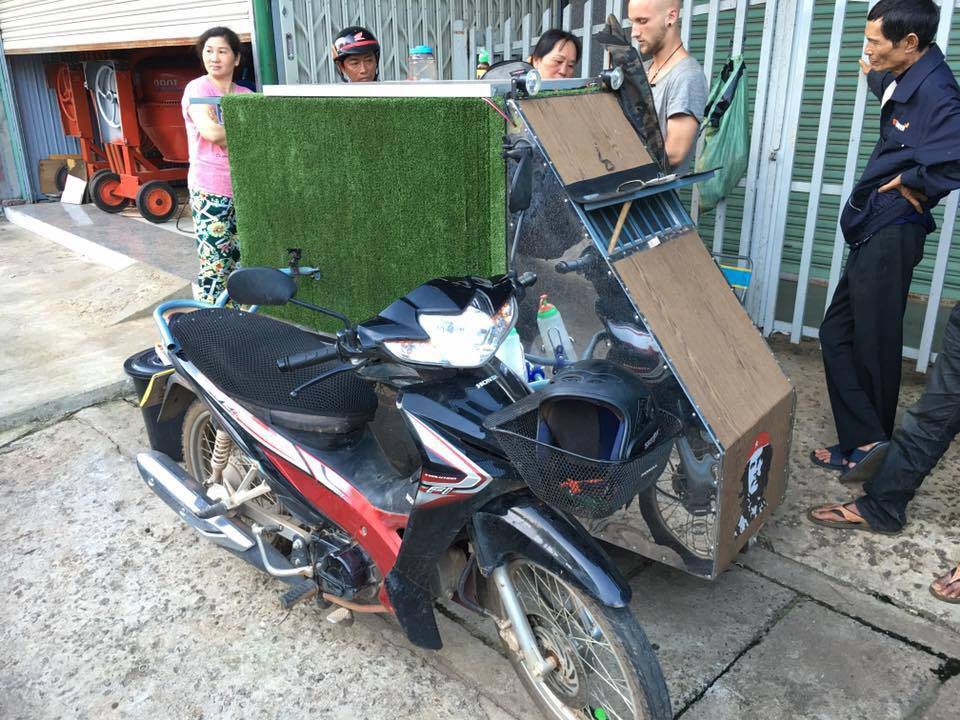 Then she turned around and said: "If someone speaks English, talk to him, tell him to wait a moment. I will bring him Tomatoes, melons and salad for dinner … So I interrupted to talk to this guy… He said that he is a german university student, 19 years old.".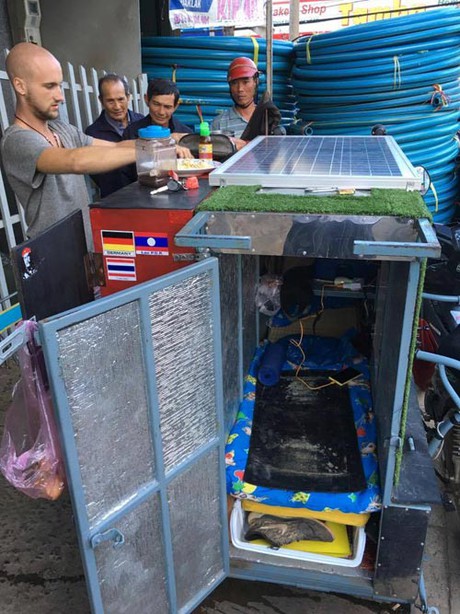 This student told us that he bought his motorbike in Thailand and then designed a sidecar to have a sleeping place. and kitchen. Very practical. The vehicle has a "bedroom" inside, which can accommodate 1 person, very practical. The sidecar also has a kitchen with a cooker, on the roof he has a solar panel that charges a car battery in the floor, a power adapter, a 20 litre water tank and a 20 litre petrol tank … Generally all the tools you need to live.
On Facebook, Trung Pham also said that their conversation didn't last long because the language barrier was too big, but he felt that Max was a fascinating, funny and very loving person. The traveled from Thailand, Cambodia and Laos, currently Vietnam. In Vietnam, he will visit Kon Tum, Gia Lai, Buon Me Thuot and Saigon. Now he travels to Saigon to meet a friend from Germany.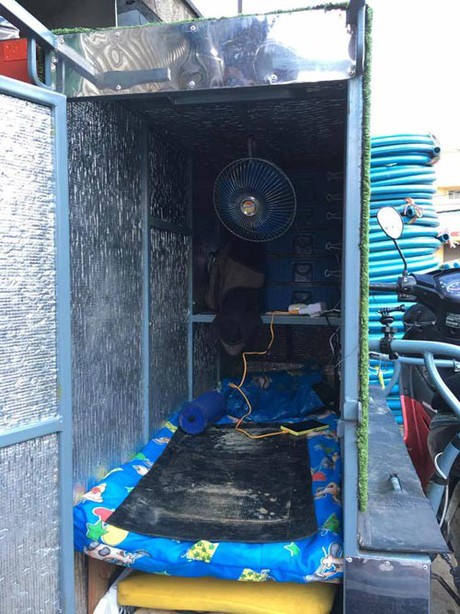 When asked how he takes a bath. The guy from the west smiled friendly and told us that you only need shave your head, so it is not necessary to wash your hair and then simply apply soap and water to the skin. Clothing can be washed and then hung on the back of the vehicle. You simply let it dry while driving.
When he was told to lock up his sleeping place and make sure he didn't lose his clothes, he laughed and said: "Don't worry. Because there are good people here. This is my first time in Vietnam, but when I come here, everyone is nice. Everyone is friendly, happy and willing to help me". Trung Pham said: "In the eyes of the German student there are only joy and excitement in his own experience".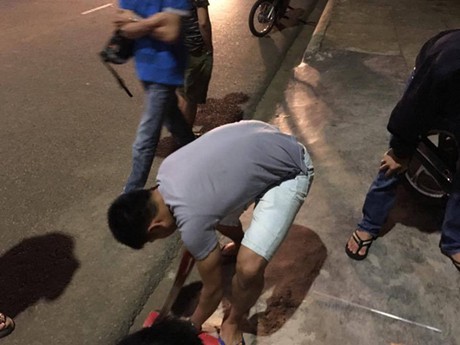 A young student who is passionate enough to do something like this is truly admirable. This is probably the most extraordinary student we have ever met…
After a night of thinking about his life, Max decided to take a long trip to Thailand. Everyone said that Southeast Asia has a long history, many cultural beauties and the people are very friendly.
When he arrived in Thailand, Max wanted to buy a Tuk Tuk and have it repaired, but the cost was too high, and the local traffic Laws did not allow the vehicle to drive in urban areas, perhaps because of the large amount of CO2 it emitted.
The Isan region of Thailand has a special Samlo, and he decides to own one. This is a motorbike that is designed to have a large space on the side to carry more people or objects.
Max plans to travel by motorbike from Thailand to Germany, passing Myanmar, India, Nepal, Pakistan, Iran, Turkey, Belgium, Serbia, Hungary and Austria. He started his route in Thailand and travelled to Laos and now to Vietnam.
When Max's parents heard this decision, it was really unpleasant. But they believe that their son has grown up and is able to make the journey safely. They bid him farewell from their home, the city of Augsburg in southern Germany.
Max stayed in the Thai city of Khon Kaen for about a week to visit his friends here and admire the beauty of this Buddhist city. A friend from Germany also came from BangKok in a long-distance bus and explored the city with him.
He then went to Laos and stayed in an area in the mountains because he brought ropes, roofs and hammocks, so that he could set up a small hut to spend the night in the forest. There is also a cooker and a solar system on the self-built car. panel. Max's trip is really full of comfort.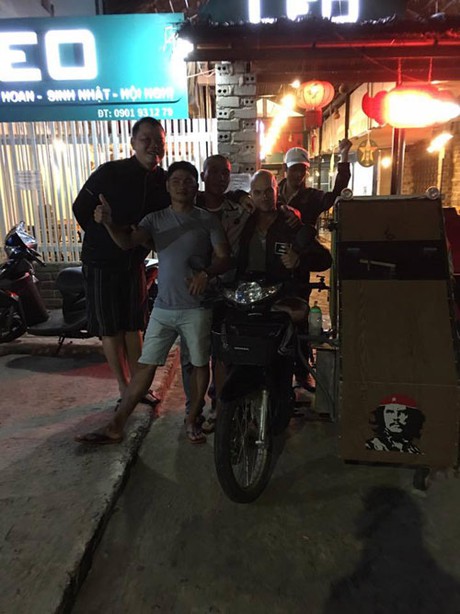 Max went along the Ho Chi Minh Trail to Dak Choong in Kon Tum Province, and had a good time in Da Lat. The people here are very excited about his car and his trip.
When asked about Vietnamese food, he said that since he did not stay in Vietnam for long, he still had not had the opportunity to enjoy the country's specialities to the full. The most impressive thing is the shrimp paste: "I honestly cannot stand the taste of this dish".
When he arrived in Saigon on the morning of 10 August, the homemade motorbike had to be parked outside the city. He stayed overnight with his friends in District 10, near the Polytechnic University. HCM city. After leaving HCMC Max will spend three weeks in Vietnam. This student will come to the capital Hanoi, move to Laos and travel through 13 countries to return to Germany.
To the question whether he will return to Vietnam in the future? He said he would like to return and have more time to visit the Tourist attractions as well as enjoying the special dishes of Vietnam. He also has many friends in Vietnam, so the next Trip to Vietnam will be very interesting.